The RECAP SHEET
News from Northern Indiana Unit 154
Editor: Kim Grant, Fort Wayne IN
(260) 740-7348 kimfwi@aol.com Unit website: Unit154.org
UPCOMING UNIT 154 TOURNAMENTS
FORT WAYNE SECTIONAL
MAY 18, 19 & 20
Fort Wayne Bridge Center
4618 East State Blvd., Suite 101
Fort Wayne, IN 46815 260-373-0422
Hotel Information:
Holiday Inn at IPFW -- 4111 Paul Shaffer Drive. (260) 482-3800
4 minutes from playing site
Bridge Rate/$115 until 4/19/18 for Double Queen Rooms
Tournament Chair:
Kim Grant
(260) 740-7348 kimfwi@aol.com
Partnerships:
Gary Chaney
(419) 438-2175 chaneygary47@gmail.com
ROSE FERGUSON AWARDED FOR SERVICE IN FORT WAYNE
At the FWDBA annual Christmas party, Rose Ferguson was recognized as the 2017 recipient of the Mike and Annamarie Bonahoom Award for service to bridge in the Fort Wayne community.
Rose has been an active member of the Fort Wayne bridge community for over 50 years. As a current Ruby Life Master, she has been a teacher of bridge for decades, a club director, and a member of the FWDBA Governing Board for many, many years where she served as secretary for over 20 years. Many current members of the Fort Wayne DBC got their start at duplicate bridge in one of Rose's classes.
She and her most frequent partner, husband Don, were owners and managers of the Swindell DBC for numerous years. She and Don still play weekly at the Bridge Center. The Fort Wayne bridge community owes much to Rose and wish her and Don continued success at the table. Thank you, Rose.

NORTHWEST INDIANA HAS BIG HEARTS AND SUPPORTS LOCAL CHARITIES
CHARITABLE DONATION — $802.00
Alan Yngve, director of the Community Bridge Club, is presenting a check for $802.00 to Louise Neese, assistant director of the Calumet Township Trustee Shelter Unit. This represents the local charity fees given by the players at this facility.
Money will be used for bedding, toys for children and other necessities, which are not supported by taxes, to be used by the homeless people.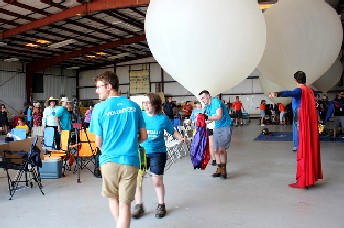 CHARITABLE DONATION — $505.00
Bridge players from various clubs have contributed $505.00 to the Far Horizons program at the Adler Planetarium in Chicago.
This program involves middle and high school students, who are an integral part of launching high-altitude balloon missions. Its goal is to bring real space exploration down to Earth and into the hands of students, volunteers and the public through mentoring, experimenting, designing, launching and exploring.

SOUTH BEND---CELEBRATING DR. JIM
The fifth annual Jim Farner Day, held on January 5, 2018 at the South Bend Club, produced this year's winners - Elaine DeLaney & Chris Habegger with a whopping 66.67%.
Dr. Jim Farner was a member of SBBC for many years, and, when he died, his family donated generously to our club. We have a plaque in his honor with the winners' names inscribed each year on display at the club. Jim Farner Day is held on his birthday each year. Chris & Elaine's names have been added on the special wall plaque given to the club by Dr. Jim's family.
Congratulations Elaine & Chris!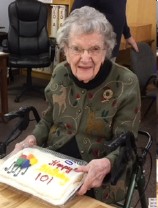 CELEBRATING ANOTHER SPECIAL BIRTHDAY
On October 16th, Mary Powell celebrated her 101st Birthday!
Belatedly, on January 9th, the South Bend club honored her with a cake and many best wishes from our members. Not only did she attend the game that day, but she and her partner, Tim Carl, came in first overall in their strat. There's no stopping this formidable lady. We look forward to writing another celebratory article about her in 2019!
HAPPY BIRTHDAY, MARY.

FRIENDS WHO WILL BE MISSED
KATHRYN (KAYE) TYLER
November 30,1933 - January 9, 2018
It is never easy to include in the newsletter an announcement that we have lost another of our very special members.
Kaye Tyler was a lovely lady who played on the "399er" side. Kaye was the perfect hostess for the foreign guests that visited her and her husband, because of his work. Kaye became an entrepreneur, owning and operating Letter Perfect Embroidery for ten years.
We send our condolences to her family which includes her husband, Tom, her two children, Terence & Jennifer, her six grandchildren and three great-grandchildren. We will miss her.
CATHERINE (CATHY) MASON
March 24, 1919 - January 5, 2018
Our beloved Cathy Mason (from Valparaiso) has passed away — the oldest member of our Northwest Indiana bridge clubs. Her daughter, with whom she lived, shared these memories — "My mom started playing bridge as a teenager. She played in her mother's bridge club. She continued to play throughout all of these years. I was told that she was very good at it. Even when she was confused in her last few days, in her mind she was still playing bridge. She asked me if I bid one diamond or one club. I've never played bridge in my life. She loved her bridge-playing friends. Bridge is what kept her going all of her almost 99 years."
The director of the game that Cathy faithfully attended every Tuesday lit a candle at beginning of the game after Cathy's death. It kept glowing brightly throughout the game in memory of a well-loved participant in this game that encompasses so many dear friends within its fold. We are truly sorry to have lost one of the finest.

---
70% + GAMES
Lois Ehinger & Carol O'Shaughnessy, Fort Wayne: 71.52 11/8
Bud Hinckley, South Bend & Rich Mao, Mishawaka: 70.83% 12/1
Sally & Rich Will, Valparaiso: 72.92% 12/5
Wayne Carpenter, Chesterton & Laverne Niksch, Portage: 71.13% 12/11
John Teshima, Trail Creek & Al Simmons, Chicago, IL: 70.83% 12/16
Dee VanBebber, Valparaiso & Jim Lane, Chesterton: 70.83% 12/19
Jackie Kohrman & Jim Kart, Fort Wayne: 73.33% 12/21
Ruth Westberg, Tinley Park, IL & Mary Schultz, Elmhurst, IL: 71.53% 1/22
Wayne Carpenter, Chesterton & Laverne Niksch, Portage: 74.54% 1/23
---
RISING IN THE RANKS
JUNIOR MASTERS
Robert Beyer, Fort Wayne; Jean Chappell-Hoemig, Fort Wayne; Joel Charpentier, Chesterton; Darrell Culley, Auburn; Frederick Green, Valparaiso; Bernadette Pohlmann, Rochester
CLUB MASTERS -- Patricia Hart, Michigan City; Teresa Nelson, Fort Wayne
ADV NABC MASTER -- Mary Kocevar, Hobart
LIFEMASTER
LEE BAATZ, Fort Wayne
I grew up in a card playing family. We played pinochle and other card games, but not bridge. I took some bridge lessons and routinely read the newspaper's bridge column, covering the east/west hands and attempting to solve the hand before reading the column.
In Michigan, I played party bridge once a month with eight guys. We kept a running total for te year to establish an annual champion. Of the eight, we had several good players and some that were not so good.
Upon returning to Indiana, I enrolled in Rose Ferguson's beginning bridge class, looking for a regular partner. Rose found me a partner and I started playing in the Fort Wayne Duplicate Bridge Club.
My game took off when Gary Chaney started the mentoring Fish game. My mentors were Jack Spring and Marilyn Weisbach and I learned a lot from their mentoring. Gary asked if I was ready to be mentor, and I soon paired up with Carol Watters, my most regular partner. Even though Carol and I qualified for some under 299 games, we entered the more competitive contests, and had our successes.
We won several Sectional and Regional games. Gary asked if I would be willing to provide occasional lessons before the Fish mentoring games. I accepted the invitation, and kept getting invited to give further lessons. I have also assisted Judy Nelsen in teaching beginning and intermediate lessons through IPFW continuing education classes.
I would especially like to thank Rose, Jack, Marilyn, Gary, and Carol for helping me obtain the Life Master status.
BR0NZE LIFE MASTER
Gale Osgerby of Dyer has earned the distinction of becoming a Bronze Life Master. Here is his story:
I first joined ACBL back in about 1973, but after 2 years of too many late weeknights of duplicate, with a 5:30 a.m. wake-up for work, I gave it up. Along the way my wife Carol, taught bridge (and me by osmosis!) for about 30 years until we both retired.
So along comes 2008, and we are retired, and I have a renewed interest in duplicate, with lots of local opportunities to play. And, Carol was teaching and mentoring me every step along the way. She and I played as partners, and I was lucky enough to pick up some other great partners, who were both encouraging and willing to teach me. Carol and I went with good friends, Don and Pat Valiska, to Gatlinburg — and what an experience! We ended the week on Saturday winning the Swiss, and I picked up my first gold — almost 10 points. I was hooked!
From there on out it was tournaments — mostly regionals — with another good friend, Charlotte Abernethy, winning another 10 gold with her, and then playing at the Chicago Nationals in a team game with George Roeper as my partner for more gold. Although I have slowed down, there are still games to be won and great times to experience, which I look forward to very much.
I would encourage everyone to keep at the game, as it will serve you well, and you can play to your heart's content.
BRONZE LIFE MASTER (
Carolyn Potasnik of Munster is the latest of our group of three players who attained the Bronze Life Master status, by virtue of being grandfathered in, dependent upon their previous lapsed membership. Here is Carolyn's story:
Bridge has always been in my life. My mother and uncle were great players, and if they were alive today, they would be very proud of my achievement.
I started playing bridge in high school. My friends and I would meet at someone's house after school and play bridge usually in the kitchen — hence the term, "kitchen bridge".
At college in Bloomington (I.U.) after dinner you would invariably hear someone call, "Fourth for bridge." In Indianapolis at the medical center we played for 1/20 of a cent per point. Then at home I still played in several bridge clubs.
When I was introduced to duplicate, I was excited and loved the challenge. I appreciate and thank all those people who helped me to achieve my goal.
)BRONZE LIFE MASTER
Mike Brissette of Gary is also happily added to our list of new Bronze Life Masters. This is his story on this special occasion:
What has improved my bridge playing for the most part is playing with good partners — namely Alan Yngve and Dave Bigler. When playing with good partners, they bring your play up. I don't lead fourth best any more. Also if you make a 1NT response after opponents make an overcall and your partner raises, he knows what he is doing. So if you are on the top range of your bid, go to 3 NT.
Reading good bridge books and discussing them with Alan has also helped a lot. The #1 book that opened my eyes lately was a book by Mel Colchamiro. His rules help you make better decisions. When playing against strong opponents play for averages — against weaker opponents play for plusses.
And last make a bridge diary, put your mistakes in it and review it twice a month. Learning from your mistakes turns bottoms into averages! Don't pay for the same mistake 3 or 4 or 5 times over! And as always — watch out for Yuan.
Alan Yngve writes — I continue to enjoy partnering with Mike. We don't always do well, but we seem to always be competitive. Mike likes to talk about bidding and defensive card play methods —topics that I have always also enjoyed. Mike continues to be effective with declarer play — also a valuable skill for anyone to hone.
RUBY LIFE MASTER
Chris Habegger, Bristol
Reaching Ruby LM in 2017 was a goal Chris set after making the Silver level in 2015.
Since he continues to work full time, his club play is limited to once a week with partner Elaine Delaney. Now he has begun a partnership with Chayem Ben Moshe with an emphasis on a couple of weeks a year of regional tournament play. During this time he's played five regionals with five wins and numerous overall finishes to help reach this next lifetime achievement. Chris sends a big thank you to his partners "for their skills and patience".
On the home front, he's added two new granddaughters and a lake cottage so he considers himself to be a very lucky guy. CONGRATULATIONS CHRIS!
RUBY LIFE MASTER
Carl Minick, Huntertown