The RECAP SHEET
News from Northern Indiana Unit 154
Editor: Kim Grant, Fort Wayne IN
(260) 740-7348 kimfwi@aol.com Unit website: Unit154.org
♣ FORT WAYNE SECTIONAL ♣
May 19, 20, & 21, 2017
Fort Wayne Bridge Center
4618 East State Blvd., Suite 101
Fort Wayne, IN 46815
fortwaynebridge.org
Tournament Chair:
Kim Grant (260) 740-7348 kimfwi@aol.com
Partnerships
Gary Chaney (419) 438-2175 chaneygary47@gmail.com
Full schedule is here.
REGISTER TO VOTE!
As Unit 154 enters its third year of democratic, Unit-wide elections, the single most important aspect is that the elections only work when the members fully participate. This year, 2017, the clubs in Angola, Fort Wayne, Warsaw, South Bend/Mishawaka, Long Beach, Michigan City, Valparaiso, Chesterton, Portage, and Gary will be electing a total of six members to the Unit Board. All materials, forms and instructions are available on the website (www.UNIT154.org ) right now.
Be a candidate! You can nominate yourself. Itís easy: fill out the form in 15 seconds and email it in.
Be a voter! Register at your favorite club by May 15 and you are ready to vote in the June elections. You registered last year or the year before? GREAT!!! Then you are already ready to vote. You donít have to register again. PARTICIPATE !!!
---
DR. MATT FARBER RECEIVES THE BONAHOOM AWARD IN FORT WAYNE
The Fort Wayne Annual Holiday Party has several traditions. One of those is honoring a Club member. This award, originally called the Lorene Leiter-Houk Award, known as the Mike and Annamarie Bonahoom Award honors the chosen member for his/her contribution to bridge in the greater Fort Wayne area. This yearís honoree is Dr. Matthew Farber.
For the past two years Matt has spearheaded the organizing and the implementation of the ACBLís Longest Day fund raiser. This fund raiser specifically benefits the Alzheimerís Association in its fight against that dreaded disease. Dr. Farber solicits contributions of funds and products from local individuals and companies. These products are then auctioned off to raise more funds. Matt was so successful this year that the Fort Wayne Club ranked 25th in funds raised throughout the entire ACBL. The local papers covered the event which generated very positive publicity for duplicate bridge players in Fort Wayne.
Thank you, Dr. Farber, for a job well done. Rumor has it that you have even greater plans for June 21, 2017.

FROM THE SOUTH BEND CLUB:
Dorie Shafer celebrated her 90th birthday at the club on January 5.
∑ Elaine DeLaney and Dick Hastings (South Bend/Bristol) won the annual Jim Farner Award on January 5. This award is given on Jim Farner's birthday each year, and their names are inscribed on a plaque donated by Jim's children. Of particular interest this year is that Dick Hastings, a family practice doctor, trained under Jim's supervision and worked with him as a physician.
∑ The club added a Friday afternoon ACBL-sanctioned 149er game that meets from 2-5 pm under Elaine DeLaney's supervision.
∑ We have a Thursday morning Newcomer Game at the club that has been running since July. It's been drawing 3-4 tables each week. One feature of the game is that we have a mentor at each table to help answer questions. Tricia Killeen has been teaching the beginners while Dennis David, Tom Hallum, Tom Hebron, and Joan Tobler have been the mentors.
∑ We owe a big thanks to John Nichols of Indianapolis who has been our webmaster for the past six years. John has been a true friend to our club, and we will miss him.
---
70% + GAMES
Ron Richey & Jackie Kohrman, Fort Wayne: 71.05% 12/14
Anne Gott & Beth Rader, Valparaiso: 70.00% 12/14
Richard Mao, Mishawaka & Bud Hinckley, South Bend: 79.92% 12/29
Marcy & Chuck Tomes, Valparaiso (299er game): 70.14% 1/1
Donald & Rose Ferguson, Fort Wayne: 70% 1/3
Donald & Rose Ferguson, Fort Wayne: 72% 1/10
Ron Richey & Jackie Kohrman, Fort Wayne: 71.97% 1/18
Tom Kelly & Ken Koorsen, Fort Wayne: 73.44% 1/19
---
RISING IN THE RANKS
Club Master
Terry Bauer, Portage; Barbara Lawson, Valparaiso; Daryl Penfold, La Porte; Kris Prohl, Westville
Sectional Master
Susan Farrington, South Bend; Joanne Sobol, Fort Wayne; Carl Zurcher, La Porte
Regional Master
Richard Helm, Warsaw; Dana Kaminsky, Fort Wayne; Roger Skurski, South Bend; Delphine Slater, Gary
NABC Master
Mary Kocevar, Hobart
Adv. NABC Master
Michael Brissette, Gary; Daryl Fraley, Crown Point
---
FRIENDS WHO WILL BE MISSED
BARBARA PILTCH, South Bend
Barbara Piltch of South Bend passed away unexpectedly in January. Barbara and Howard Piltch were married 38 years, and she was the mother of two sons, Joseph and Robert (Robert died 6 years ago).
She was a life master in bridge and served in many capacities in Unit 108. She co-chaired the 1999 Boston National, built the novice program in Unit 108 from six tables to 64 at their sectional. She was Secretary and a board member for Unit 108. She built the Pro-Am program from 19-48 pairs. She was hospitality chairperson for the Eastern Massachusetts Bridge Association.
A talented seamstress, Barbara donated many items to the Christ Child Society in South Bend. She was very involved with animal rescue activities, and she served as president of the Pekinese Rescue Society in New England. Barbara led a campaign at South Bend Bridge Club to send gifts to our service people in Iraq. Barbara was active at Sinai Synagogue in South Bend not only in study groups but also in hospitality.
There will be a memorial service for Barbara later this year at the synagogue. Howard describes Barbara as the kindest, nicest person he ever met, and she will be greatly missed by all who knew her.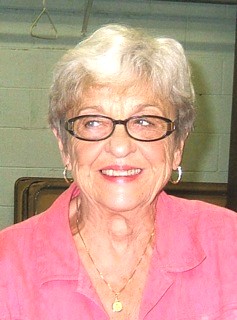 DONNA BEACH, Valparaiso
Donna Beach, a lifetime resident of Valparaiso, passed away on November 27.
Beth Rader, her longtime bridge partner, said that Donna was a wonderful player and a reliable partner. She never got upset with her partner and was truly a good person. She loved her friends and had a positive, accepting attitude about her health problems.

VIVIAN HENRY, Fort Wayne
Vivian ďVivĒ Henry passed away on January 4, 2017. At 87 years of age, she had been in declining health for a number of years. On hearing that statement, she would have remarked that all of us are in declining health at this stage of our lives. Viv didnít mince words.
Viv was not known as a good bridge player. She loved to cash the aces and the kings. Second hand low was an unknown concept to her. However, she embodied the most important aspect of the game: SHE ENJOYED IT! She enjoyed taking the cards out of the board. She enjoyed bidding the hand. She enjoyed declaring and defending. She enjoyed the game!!! She is now where she always sets the opponents contract and where she always makes an overtrick as declarer. Play well and rest easy, Viv.