The RECAP SHEET
News from Northern Indiana Unit 154
Editor: Kim Grant, Fort Wayne IN
(260) 740-7348 kimfwi@aol.com Unit website: Unit154.org
UPCOMING UNIT 154 TOURNAMENTS
FORT WAYNE FALL REGIONAL
OCTOBER 2 – 8, 2017
Grand Wayne Convention Center
120 West Jefferson Blvd., Fort Wayne, IN 46802
Tournament Chairman: Kimberly Grant
260-740-7348 kimfwi@aol.com
Partnership Chairman: Gary Chaney
419-438-2175 chaneygary47@gmail.com
HOTEL INFORMATION
The Hilton Fort Wayne (260) 420-1100
1020 South Calhoun Street, FW 46802
Special Bridge Rate - $99.00 + tax (single or double)
Reservation must be made by September 11, 2017 (Based on availability)
Courtyard by Marriott (260) 490-3629
1150 South Harrison Street, FW 46802
Special Bridge Rate - $104.00 + tax (single or double)
And Special $3.50 Parking Rate with Reservation if made by Sept. 1, 2017. (Based on availability)
NORTHWEST INDIANA FALL SECTIONAL
OCTOBER 20-22, 2017
Lincoln Community Center
2450 Lincoln St. , Highland, IN 46322
Tournament Chair: Barbara Walczak
219-923-288 bawalczak@att.net
Partnership Chair: Anne Murphy
219-787-1031 amurphy86@aol.com
---
70% + GAMES
Steven Watson, Schererville & Lou Nimnicht, Crown Point: 71.11% 5/30
Chayem Ben Moshe & Ren Singleton, South Bend: 70.24% 6/1
Bud Hinckley, South Bend & Richard Mao, Mishawaka: 72.45% 6/19
Jimmy Cordas & Elaine DeLaney, South Bend: 72.02% 7/10
Chayem Ben Moshe, South Bend & Chris Habegger, Bristol: 72.91% 7/14
Don Valiska, Highland & Carol Osgerby, Dyer: 70.03% 7/17
---
RISING IN THE RANKS
JUNIOR MASTERS Robert Enyeart, Fort Wayne; Gayle Gonser, Elkhart; Sunaina Kumar, Dyer; Michael Ridenour, Fort Wayne
CLUB MASTERS Betty Brewe, Michiana Shores; Richard Brewe, Michiana Shores; Dr. Stan Davis, Fort Wayne; Bonnita Laub, Mishawaka; Millie Legg, New Haven; Benjamin Paulson, South Bend; Joyce Wert, Wabash
SECTIONAL MASTERS Maureen Skurski, South Bend
NABC MASTER Pamela Satek, Fremont
ADV NABC MASTER Carolyn Potasnik, Munster
BRONZE LIFE MASTER James W. Voelz, Fort Wayne
SILVER LIFE MASTER
E. TIM CARL
Back in November 2013, when Tim became a Bronze Life Master, we interviewed him to see if he had anything to add since becoming a Life Master.
He mentioned then that he hadn't realized how much there was to learn and discover about the "duplicate" game. Evidently he has learned enough to become the latest Silver Life Master in our Club. Congratulations, Tim!

RUBY LIFE MASTER
Wayne Carpenter of Chesterton, director extraordinaire, and now a 1500-masterpoint holder has qualified to be named a Ruby Life Master.
Wayne started his bridge career about fifty years ago! In the early years, most of his bridge was played between classes in college. He began to play duplicate bridge after he retired. Wayne says that having a good partner is key to accumulating masterpoints — that you don't really need a fancy system — just remember to tell your partner the truth, if you can. His longtime partner is his cousin, Laverne Niksch, who helped him get about ⅔ of his masterpoints.
Players agree that Wayne is wonderful and pleasant and any high-caliber bridge player would be very pleased to be his partner. He masks his skills, but make no mistake, Wayne gives no slack at the table. He has the ability to temper his intensity with common sense and is able to help his partners improve.
Congratulations to Wayne Carpenter for having captured a new level in the bridge hierarchy!
---
PRO-AM WINNERS AT THE SOUTH BEND CLUB
South Bend's semi-annual Pro-Am Swiss Team Event, held on Thursday night, May 25th, was a great success! There were 12 teams of life masters or players with more than 500 points partnering with non-life master players with fewer than 500 points.
The winners were (pictured l to r): Marty Martin, Linda Podlin, Bob Adams and Peggy Lyzun. We send our congratulations! In addition, a hearty thank you to Director Bill Searcy (our hot dog chef) for running the event so smoothly & to Joan Tobler's committee, Ruth Minish & Jo Ann Steigmeyer for the tasty spread.
Look for the next Pro-Am this fall!

GOLDEN AGE RECIPIENTS
On May 26th the South Bend club and ACBL honored our latest Golden Age Award recipients, Joan Fahey and Connie Hebron.
There was cake and ice cream presented by the club and a certificate from the ACBL to let them know that we appreciate their loyalty and support for the great game of bridge over the years.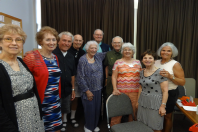 THE CELEBRATION OF THE 2016 LIFE MASTER HONOREES IN SOUTH BEND
Another wonderful Recognition Luncheon was presented at the South Bend Bridge Club on Saturday, June 24th. Great food, great tributes presented to the recipients, and great accomplishments by our honorees.
And, of course, we thank Joan Tobler & her Hospitality Committee and our director, Bill Searcy, for a party well planned.
The winners of the Special Game that afternoon were:
N/S: Leroy Boser & Ren Singleton E/W: John & Tricia Killeen
l to r - Elaine DeLaney (Diamond), Gail Wells (Bronze), John Bodish (Gold), Vic Papai (Ruby), Shirley Soucek (Silver), Bob Knoblock (Life Master), Dick Scheibelhut (Ruby), Lynn Miller (Life Master), Sara Marcus (Sapphire) & Leslie Garvey (Bronze).

SENIOR GAME DAY
Be sure to look in the June ACBL Bulletin on page 59 to see that South Bend's very own Vic Papai and Guy Morrical were the winners of the Senior Game Day bridge event in District 8 which includes northern Indiana, central & southern Illinois, Paducah and St. Louis.
Great accomplishment, guys!

BIRTHDAY CELEBRATION FOR SHIRLEY SOUCEK
During the Recognition Celebration, Tim Carl, our President, presented a red rose to the South Bend club's newest 90-year-old member, Shirley Soucek from Arizona. Her birthday was actually May 3rd but she wasn't able to join them until June.
We congratulate Shirley and wish her many more happy and healthy years.

THE LONGEST DAY IN NORTHWEST INDIANA
Community Bridge Club in Gary participated in ACBL's efforts to raise funds for the Alzheimer's Association on June 21 for "The Longest Day".
Alan Yngve directed three bridge games on the 21st from morning until night in a fun-filled day. Sixty-five players gathered at various times — fifty-three of them earning 72.16 masterpoints. In total $651 was raised for the Alzheimer's Association through an increased per-table contribution and generous supplemental donations.
Besides the indefatigable director, special thanks go to Kimberly Robinson and Brenda Hunter from Calumet Township, Geraldine Tyler for coordination assistance and the light dinner, Dave Bigler for breakfast foods, Dave Bigler and Jim Lively for contingency preparations, in case attendance was higher than it actually was, and all the contributors to the noon potluck.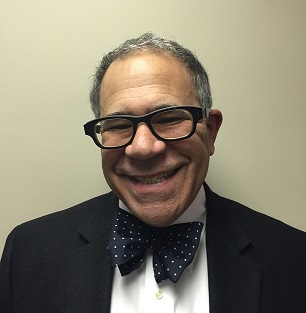 FORT WAYNE CLUB CAME OUT FOR THE LONGEST DAY
In 2016 the Fort Wayne Duplicate Bridge Club ranked 25th, raising $4433, when compared with all of the ACBL's clubs who participated in the Longest Day fund raiser.
Dr. Matt Farber, last year's and this year's Longest Day chair, said, "That's not good enough. Come on, Fort Wayne, you can do better."
On Wednesday, June 21, the FWDBC put its money where its mouth was. Dena Davis, Teresa Nelson and Lois Ehinger started the day by conducting an 11-table party bridge game. After lunch, Jim Kart directed a 23-table, 2-section duplicate game.
The accompanying silent auction of 34 donated items and services contributed to the final total. Players and organizations opened their pocketbooks to demonstrate that Fort Wayne has a generous heart. When the day was done, a total of $6,221 (a 40% increase over 2016) was raised to benefit Alzheimer's research.
Thank you, Fort Wayne Duplicate Bridge Club members. You have a right to be proud of yourselves and the greater Fort Wayne community.
---
FRIENDS WHO WILL BE MISSED
DENNIS DAVID May 10, 1937 - May 26, 2017
It was not easy to tell our members that we had lost our dear friend, director, and teacher this past month. Dennis came to us when he married Marian Eggebrecht in February 2009 and became an enthusiastic partner for many of our members.
He was always available to fill in when needed because he LOVED the game and enjoyed the camaraderie in the club. He served as a director for many years and taught bridge at Forever Learning Institute where he found more future SBBC members. He was not with us long enough, and we send our condolences to his family and to Marian. We will miss him and his smile.

JOHN CHMIELOWIEC September 1, 1942 to June 11, 2017
John was from Michigan City and passed away in June. "Big John", as he was called, was a bridge player and partner extraordinaire, who never complained about, argued with, or criticized anyone — partner or opponent. As bridge constituted almost the entirety of his social life, we were all very special to him as members of his extended bridge family. A phenomenal player — he was generally recognized as one of the better players in Indiana. Big John was a Diamond Life Master.
Big John made a decision to have his pannus removed, since it was growing and hurting. It was intruding on his enjoying even simple pleasures such as watching TV for more than 45 minutes — for he had to get back in bed to offset the gravity of this pouch hanging down. He hoped that the surgery would enable him to get back to the table, which was where he wanted to be. He knew the risks. He was game to face the risk, because the pannus was sucking the joy out of him. Unfortunately, he lived for only a few days after the surgery.
Although John, who was a resident of Michigan City and a former SBBC member, hadn't been coming to the South Bend Club for many years because of health issues, most of the SBBC still remember his superior play and gentle demeanor. We were sorry to hear of his passing and send our condolences to his family.

DAVE IRWIN November 14, 1929 - May 3, 2017
Although Dave Irwin wasn't a member the past few years due to health issues, he was instrumental in the establishment of the South Bend Bridge Club over ten years ago. As the President of the Thursday Club and with the permission of its club members, he turned over all the assets of his group and helped start what is today the SBBC.
He achieved the status of Silver Life Master and particularly enjoyed the game with Al Rossow (1927-2012) who, we are certain, is his partner wherever they may be. We send our condolences to his son, David, and daughter, Stacey. Dave leaves us with fond and fun memories.

ROSEMARY SHAFER January 4, 1928 - July 18, 2017
Once again our Bridge Club has been saddened with the passing of another of our special members, Rosemary Shafer, affectionately known as "Rosie" among her many fans at our club.
She and her husband of 59 years, Fred, who passed away in 2008, were enthusiastic players who played in the club for many years. Their beautiful union produced seven children and was responsible for the family future generations of 11 grandchildren and 10 great-grandchildren.
Rosie was active in many charitable organizations, enjoyed traveling, and was passionate about duplicate bridge. She brought a gentleness and an all inclusive warmth to our club but, in particular, a beautiful smile whenever she walked through the door. We shall miss her greatly.

BOB SCHUMM 1926 - 2017
Bob was from Munster and passed away on May 28 at the age of 91. He was a real bridge aficionado who played mostly with John Kohlbecker. He had a good reputation as a gentleman, and was liked by everyone for his calm and accepting demeanor.
Bob went through a lot medically. He had two types of cancer, and as testimony to his will and his strength, he outlived his doctor's predictions by 7 or 8 years. His other hobbies were woodworking and painting.